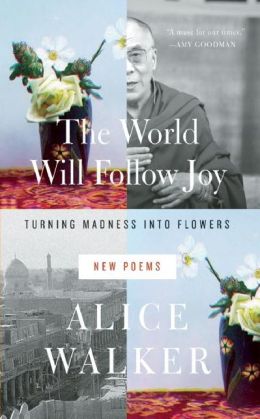 In this luminous collection of poems, Walker casts her eye on history, politics, and nature, as well as world figures. In tributes to such people as Jimmy Carter, Gloria Steinem, and the Dalai Lama, she reminds us of the urgency of our times and of our human capacity to come together and take action. Walker imbues her poetry with memorable images, anger, forgiveness, and profound wisdom. Chronicling the conditions of human life today, she demonstrates in The World Will Follow Joy her deep compassion, profound spirituality, and necessary political commitments.
Alice Walker was born on February 9, 1944, in Eatonton, Georgia. She worked as a social worker, teacher and lecturer, and took part in the 1960s Civil Rights Movement in Mississippi. Walker won the 1983 Pulitzer Prize for Fiction for her 1982 novel, The Color Purple, and is also an acclaimed poet and essayist.
Open this book HERE
Profile: Alice Walker

"So in the end you can't even really regret your misfortunes," explains the beloved author Alice Walker, "because they led you somewhere."
Walker speaks from experience. From growing up poor in the segregated south and losing part of her vision in a childhood accident to receiving threats from the Ku Klux Klan for her interracial marriage and work with the NAACP in 1960s Mississippi, Walker has experienced her share of hardships.
But over the years she has channeled these experiences into groundbreaking fiction about the lives of blacks in America, becoming one of the most celebrated writers of her time. Through her continued dedication to writing and politics she remains a powerful example of what it means to lead a purposeful life.
Riz Khan Extra – Alice Walker on Obama's victory – 5 Nov 08

Al Jazeera's Riz Khan talks to Alice Walker, the Pulitzer prize-winning author of "The Color Purple" and an activist on gender and race issues, in this web exclusive.