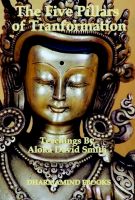 this book specially written for the dharmamind group covers five vital principles that need to be addressed by those dharma practitioners interested in practicing the immanent model – often referred to as the "practice of no practice" – of chan or zen of mahayana buddhism. the principles are: familiarity with meditation, taming restlessness, living in the body, containing the emotions and recognising your true nature. these five principles for training are teachings from recordings made during a retreat in scotland, and convey the importance of becoming aware of habitual attachments to the self and ego, and the need to let them go so as to awaken to our own innate true nature, and realise the joy and freedom from suffering.
I was born in Oxford, England, in 1946, and I've been a practicing Buddhist for nearly 40 years. I began training with Zen, practicing with the Venerable Myokyo-ni, a teacher from the Rinzai school, at the Buddhist Society in London. This was my practice for more than five years, before travelling to Sri Lanka in 1980. Here I lived for three years as a Theravada monk under the guidance of the Venerable Dhammaloka Maha Thera. It was while I was in Sri Lanka that my spiritual breakthrough took place in 1981, and it is this that forms the framework of my first book, A Record of Awakening, published in 1999.
On my return from Sri Lanka I matured my practiced by essentially living on my own for a number of years in east London. At the time of my breakthrough in Sri Lanka my teacher told me I should travel and begin to teach, but it was to be around 20 years before I took that role by leading
Click here to browse inside.
Āloka David Smith 'The Awakened Mind Is Born'

Published on Apr 15, 2014
Āloka David Smith 'The Awakened Mind Is Born' Interview by Iain McNay
Practicing Buddhist for 40 years who began training with Zen, practicing with the Venerable Myokyo-ni, at the Buddhist Society in London for 5 years. He then travelled to Sri Lanka in 1980 where he lived for three years as a Theravada monk. While there his spiritual breakthrough took place and it is that, that formed the framework of his first book, 'A Record of Awakening.' He then returned to London and matured by living on his own for a number of years. He has written 4 further books, 'Dharma Mind Worldly Mind;' 'A Question of Dharma;' 'The Five Pillars of Transformation' and 'Blue Sky, White Cloud.'